Phu Quoc seeks to become the first island city of Vietnam
The authorities of Kien Giang Province has signed a petition that was then sent to the government on establishing Phu Quoc to become the first island city of Vietnam on the basis of the existing Phu Quoc Island district, with one island and 21 other islets.
If approved, Phu Quoc would become the first island city of Vietnam.
    Phu Quoc Island district has an area of 589,275 sq km, or roughly the same size as Singapore. In recent years it has become an international-standard beach holiday, eco-tourism; and entertainment destination. It expects to have 12,000 five-star hotel rooms by 2020; and become a leading tourism resort city in Southeast Asia.
    Phu Quoc also become a hub for international transportation and aviation recently; with a range of airlines opening regular and charter flights to the island; such as Vietnam Airlines, Vietjet Air, Jetstar Pacific Airlines, China Southern, and Lucky Air, among others.
     The island has a sea area adjacent to ASEAN countries, is near international freight routes, is less than two hours by air from many ASEAN capitals, and is close to economic and tourism centers in regional countries.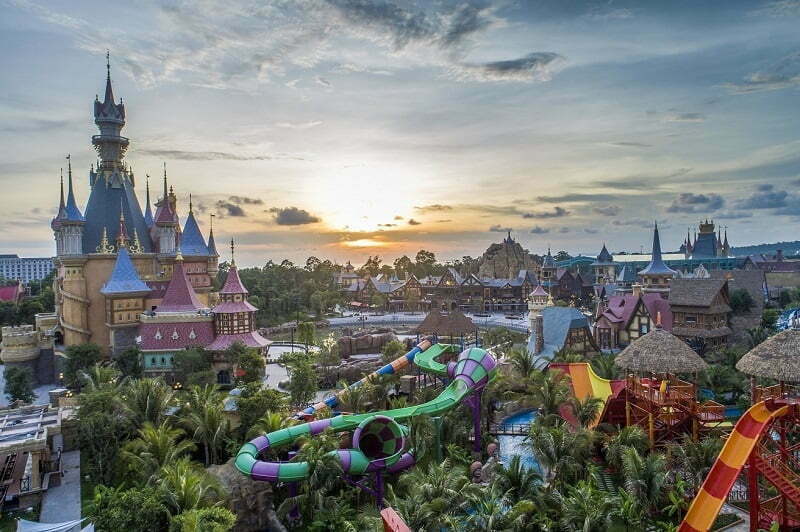 According to figures from the Kien Giang Provincial People's Committee; there are 304 investment projects on Phu Quoc, with total capital of VND361.054 trillion ($15.6 million). Among these, 215 are tourism development projects; 23 are urban development projects, eight are agricultural projects; eight are public service projects, and eight are projects leasing forests.
     Under documents submitted to the government, Kien Giang province plans to establish Phu Quoc city; with eight wards and a subordinate commune, including Duong Dong, An Thoi, Duong To, Ham Ninh, Cua Can, Cua Duong, Ganh Bau, and Bai Thom, and Tho Chau commune.
     After establishment, Phu Quoc city would have a natural area of more than 589 sq km and a population of 127,709. It is located 120km southwest of Rach Gia city – Kien Giang's administrative center.
     According to Notice No. 27 from the Politburo; Phu Quoc Island district is to become one of special economic zones in Vietnam; joining Van Don in northern Quang Ninh province and Bac Van Phong in south-central Khanh Hoa province. However, the National Assembly is yet to pass the Law on Special Economic Administrative Units; so there is no legal basis at this time for establishing these special economic zones.
Company Name: SC HODLING (SC HODLING INVESTMENT & DEVELOPMENT JSC)
Email: scholdingcompany@gmail.com
Phone: +84917000929