Investment waves continues to come back in Phu Quoc, Kien Giang
With outstanding potentials and advantages, together with many large projects which have been invested in the area, especially efforts to strongly improve the business and investment environment, Phu Quoc, Kien Giang province expects to continue to welcome the investment waves in the future.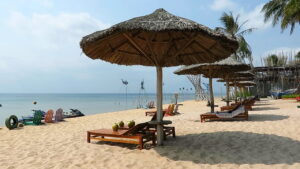 Phu Quoc has been recognized as urban type 2 since 2014. Currently, Kien Giang province is waiting for the Government; to approve the scheme on the establishment of Phu Quoc coastal city under Kien Giang province. From this policy, Phu Quoc has been focusing on investing heavily in developing essential infrastructure; by domestic and non-budgetary sources…
      Phu Quoc Island, Kien Giang Province, is located in the South of Vietnam. Phu Quoc is one of three areas subjected to Special Economic Zone law which is now under drafting. Vietnam government expects the law will promote strongly investment waves in Phu Quoc. Phu Quoc has area of 574 km2 divided into 08 communes and 02 towns having above 120,000 people.
      Many key projects have been deployed and put into use; such as Phu Quoc International Airport, An Thoi International Seaport, Duong Dong Passenger Seaport; Ha Tien – Phu Quoc underground electric cable line, the road around the island; South – North main road, An Thoi cable car…
      According to the Head of Phu Quoc Economic Zone Management Board; with many incentives, open mechanisms and interest of leaders, Phu Quoc is expected to grow strongly in a short time.            Currently, according to the operation regulations of Phu Quoc island and Nam An Thoi island cluster, projects of organizations and individuals inside and outside the country investing in Phu Quoc shall enjoy the 10% enterprise income tax rate applicable during the project implementation period; Vietnamese and foreign people are entitled to a 50% reduction of income tax on high income.
       Phu Quoc International Airport can welcome large aircraft with a flow of 2.6 million passengers per year. Besides, dozens of high-quality high-speed trains run Ha Tien – Phu Quoc and Rach Gia – Phu Quoc routes, bringing over 2,000 visitors to and from the island every day.
     The synchronous investment has been effective. In 2018, tourists to Phu Quoc doubled compared to before the new airport opened. It is forecasted that in 2020, Phu Quoc will welcome several million visitors, of which about 30% are international visitors.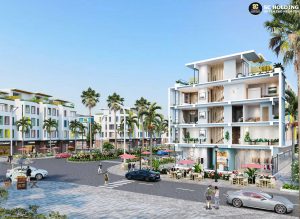 Efforts to strongly improve the business and investment environment to welcome investment waves: 
    In addition to the highest investment incentive policies in the country, at the present, Phu Quoc investors are interested in a number of interesting issues such as: regulations allowing economic organizations, Vietnamese residing abroad, foreigners permanently residing in Vietnam, foreign-invested enterprises, foreign organizations and individuals may invest in the construction of houses for sale or lease, sub-lease or transfer of land use rights which has built infrastructure in accordance with relevant provisions of the law on land; overseas Vietnamese can buy houses…
    Investors coming to Phu Quoc will receive maximum support from Kien Giang provincial government and Phu Quoc island district. If outside the jurisdiction, the locality is responsible for coordinating closely with ministries and agencies to promptly remove and create the best conditions for investors.
    Up to now, in Phu Quoc district, there have been 265 detailed construction planning projects and master plan of 1/500 scale which have been approved with a total approved area of 7,384.98 ha. The number of accommodation rooms approved in the tourist areas is adjusted according to the general planning of about 80,141 rooms.
In recent years, Phu Quoc has changed clearly and comprehensively in all aspects, the economy has grown at an average rate of 27.52%/year; budget revenue reached over 1,000 billion VND per year; GDP per capita increased nearly 4 times compared to 2010; average tourism revenue increased by 43%/year.
It can be said, the results that Phu Quoc achieved have contributed significantly to the general development of Kien Giang province and created the strongest growth momentum in the Mekong Delta region.
    Accumulated until April 15th 2020, Phu Quoc has 299 valid investment projects in planning areas with an area of 10,585 ha.
    In which, there are 36 projects in operation with an area of 1,182 ha, total investment capital of about 14,758 billion VND; 35 projects are under construction (6 projects have been partially operated) with an area of 3,203 hectares and a total investment of about 95,731 billion VND; the remaining projects are completing investment procedures.
Regarding foreign direct investment (FDI), up to now, Phu Quoc district has 31 FDI projects with a total capital of 293 million USD.
    Phu Quoc is the largest island in Vietnam; and the unassuming Vietnamese island has become one of the most visited tourist locations; thanks to its idyllic beaches, romantic sunsets, evergreen forests, and a serene atmosphere. Regarded as "one of south-east Asia's best-kept secrets;" the island's real estate market is filled with growth potentials. 
INVESTMENT WAVES HAS CHANGED AND MOVE TO #BAI_TRUONG ( LONG BEACH), PHU QUOC
Bai Truong – Phu Quoc is also becoming the number 1 tourist destination of Pearl island. Strategically located: near the airport, located between the town center of Ngoc Island easy to move to the convenient services … With the traffic system is planned to create a premise to develop beyond step. With famous names and brands have been put into operation such as: InterContinental Phu Quoc Long Beach Resort, Novotel Phu Quoc, Sol Beach,…and recently #Meyhomes_Capital_Phu_Quoc by Meyland.
While the Phu Quoc tourist balance is moving to Bai Truong; the balance of the property market also changes in that direction. Investment waves of property has moved and followed by potential investors. According to investors, poured capital shophouse #Meyhomes_Capital_Phu_Quoc right now; is the way to own "preserve" has the ability to profit long term, sustainable
The recent MeyHomes Capital Phu Quoc project

;

invested by

MeyLand – A member of Tan A Dai Thanh Group, a well-known real estate development company nationwide; has 5 subdivisions – Rosada, Aqua, Apricot, Olive, and Coral and diversified utilities, making it a bright spot of the smart, ecological urban area. The subdivisions with many functions supporting each other to serve the metropolitan area are not only highlights of the architectural complex but also contribute to satisfying all shopping, culinary, and entertainment needs of tourists, further attracting them to the resort for relaxation.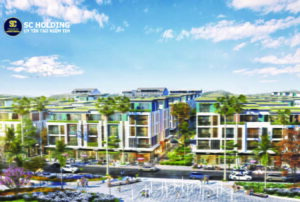 MeyHomes Capital Phu Quoc by MEYLAND sets its first step in the URBAN TOWN real estate market in Vietnam; with the first and only "smart and pure city" on the Phu Quoc, Pearl Island. 
Another highlight of this prestigious Phu Quoc project is the inspiration by the three rotating forms of water; – Lake, River, and the Ocean. Furthermore, the perfect circle of the pearl is another fantastic feature of this project; that make it a must-buy for forward-thinking investors include 1,305 shophouse and mini-hotels; 130 villas. 
For more information about MeyHomes Capital Phu Quoc and

got a consultation please contact us:
Company Name: SC HODLING (SC HODLING INVESTMENT & DEVELOPMENT JSC)
Email: scholdingcompany@gmail.com
Phone: +84917000929