#1 WHY EXPATS IN VIETNAM CHOOSE SHOPHOUSES MEYHOMES CAPITAL PHU QUOC?
MEYHOMES PHU QUOC – HIGH LEVEL & SMART EQUIPMENT SYSTEM  
MEYHOMES CAPITAL PHU QUOC is synchronously planned from technical infrastructure, architecture, landscapes to construction to bring residents and visitors the value of modern living, class and rich of indigenous cultural values.
On the MEYHOMES PHU QUOC landscape axis more than 1.2 km, there are 3 theme green parks (Ocean Park, River Park, Lake Park) with works such as regulating lakes, spreading theaters, scenic huts, walkways, parks, squares, art exhibitions… Along with 8 themed Club houses with high-end facilities such as Event Center, Game Center, Bowling, game center virtual reality, outdoor theater, health care area, swimming pool, gym, spa, yoga, tenis, basketball, food court, restaurant, café, community house, library … with International school system.
   #Meyhomes Capital Phu Quoc is designed for architectural planning by Darkhorse Architecture — Australia is the world's leading designer on a total land area of 54.67 hectares; construction density is 33.06%.
    Meyhomes Capital Phu Quoc will be divided into 1,435 adjacent houses and villas. In particular, the number of adjacent houses shophouse is 1305 units and 130 villas. All products will have a separate red book, legal safety
MEYHOMES PHU QUOC SURFACE DESIGNED AND COOPERATED BY INTERNATIONAL PARTNERS: DARKHORSE, CHUNGHO NAIS, CBRE
Landscape design unit ONE LANDSCAPE – HONGKONG: is a design company specializing in high-end contemporary landscape architecture, urban design, public art and environmental planning based in Hong Kong. The current unit is a strategic partner of SunGroup and VinGroup.
Dark Hose Architecture Design Planning: is a well-known Australian design company in the world, famous for the rigor of the smallest details in the design, they focus on creating quality products. They are highly aesthetic so they are always a reliable partner of SunGroup.
Chungho Nais Group: As Korea's leading provider of clean water and health solutions. Chungho hopes to create the first "potable tap water" in Phu Quoc in the Meyhomes Phu Quoc project CBRE Project Management Unit: As a world-leading leader in project management.
Projects managed by CBRE often have good added value, image and high reputation thanks to professional service and dedication. Capital support Vietcombank: As a leading bank in Vietnam's banking systems with strong capital and high reputation for project evaluation. 
   

MEYHOMES PHU QUOC VALUE AND VISION – A HIGH LEVEL URBAN TOWN:
VISION — MEYLAND aims to become a leading brand in the field of real estate in Vietnam, to build resorts and urban areas with the application of modern technology platform of Industry 4.0 to improve the quality. quality of life of Vietnamese people.

MISSION — "Prosperous Vietnamese life" is the noble mission MEYLAND is aiming for. Wishing to create the best living conditions for Vietnamese people, providing high value products, increasing benefits for customers.

CORE VALUES — Branding by reputation — High quality products and professional services — Creating a prosperous and humane community

BUSINESS PHILOSOPHY — Technology investment, intelligence — Product quality — Value of use — Community responsibility.

  
    WELL POLICY PAYMENT WITH MANY PROMOTION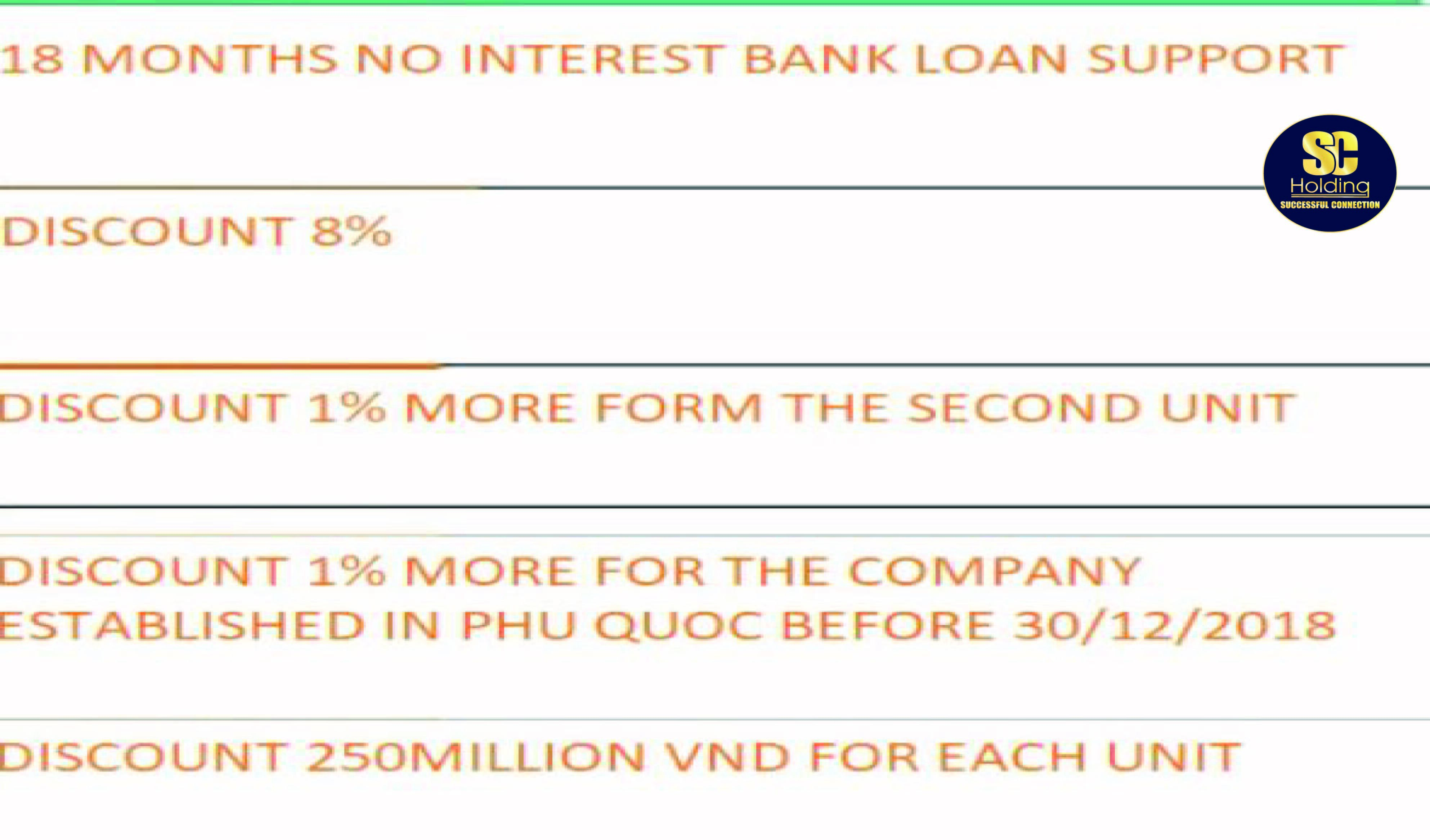 ON FIRST PHASE SELLING, especially, OFFERING DISCOUNT 8% (on selling price), 100 million, and voucher 250 million for interiors. AND MORE ATTRACTIVE PROMOTION, PRIORITY FOR ONLY 50 CUSTOMERS PRE-REGISTERED
To schedule a viewing, visit our PROJECTS please contact below:
Company Name: SC HODLING (Cong ty Co Phan Dau Tu & Phat Trien SC Holding)
Contact Person: JACKIE HOANG    
Email: scholdingcompany@gmail.com
Phone: +84939331445
Address: 60A 3 thang 2 street Ward Hung Loi, District Ninh Kieu
City: CanTho City
Country: Vietnam
Website: https://scholding.com.vn